Adapted from:
Olive Juice
's Twice Baked Taters
Ingredients:
5-pound bag of red potatoes
1/2 lb. bacon (optional)
1 (8oz) package of cream cheese
Half cup heavy cream or buttermilk
1 cup sour cream
2 cups shredded cheese
1 tablespoon roasted garlic, mashed
4 tbsp butter, softened
Snipped fresh chives, parsley, scallions or cilantro (optional)
Salt to taste
Freshly ground pepper
Directions:
Put potatoes in a pan with half tsp salt and just enough cold water to cover them.
Bring to a boil and cook at a moderate boil for 15-20 minutes, until potatoes are easily pieced with a fork but not falling apart.
While the potatoes are cooking, slice the bacon into pieces and fry. Fry until crisp, drain on paper towels, and set aside.
Meanwhile, warm cream cheese and cream/milk together a saucepan until steaming hot (do not boil).
Drain potatoes and return to pan.
Turn heat to high, shake pan for about 30 seconds, until water evaporates. Remove the pan from the heat and then it's time to mash.
Beat or mash the sour cream and grated cheese into the potatoes.
Add the cheese mixture into the potatoes a half cup at a time and the butter a tablespoon at a time.
Check after adding approximately three quarters of the liquid to see if you have the consistency and richness you want.
Mash in the garlic and stir in the bacon.
Add more liquid, if desired and season to taste with salt & pepper.
Garnish with snipped herbs, if desired.
This recipe is also linked to...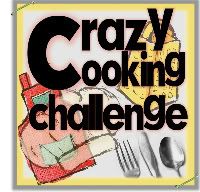 This month we're on the hunt for the ULTIMATE MASHED POTATO recipe. Check out the what we've come up with and place your votes...