I found this recipe at
Foodie at Fifteen (now 18)
Ingredients
1 cup unsalted butter, melted
1 1/2 cup packed dark-brown sugar
2 cups bread flour
1 tsp baking soda
1 tsp salt
2 tsp pure vanilla extract
1 large whole egg, plus 1 large egg yolk
8 oz. Ghirardelli 60% Cacao Bittersweet Chocolate Chips
4 oz. chopped pecans
fleur de sel or other fine salt
Directions
Combine the melted butter with the sugar over medium speed in a stand mixer.
Sift together the flour, salt and baking soda.
Add the egg and yolk, and vanilla extract to the stand mixer.
Very slowly add your flour mixture.
Add the chocolate and pecans and mix until combined.
Chill the batter thoroughly in the fridge.
Preheat the oven to 325 degrees F.
Scoop the batter in huge, even, spoonfuls onto parchment paper.
Sprinkle with fleur de sel or other fine salt.
Bake for 18 minutes.
Cool for 15 then enjoy!
This recipe is also linked to...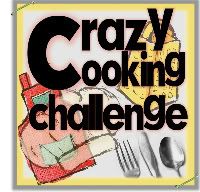 This month we're on the hunt for the ULTIMATE CHOCOLATE CHIP COOKIE recipe. Check out the what we've come up with and place your votes...